INPEA is a membership association of faith-based and independent schools and jurisdictions. As an advocate for non-public schools in Indiana, INPEA is engaged in public policy advocacy and professional development for its member schools.
INPEA operations and activities are funded in great part by membership dues and conference fees. Jurisdictional dues are tiered, based on the number of students in the jurisdiction. School dues are based on enrollment.
INPEA Membership Benefits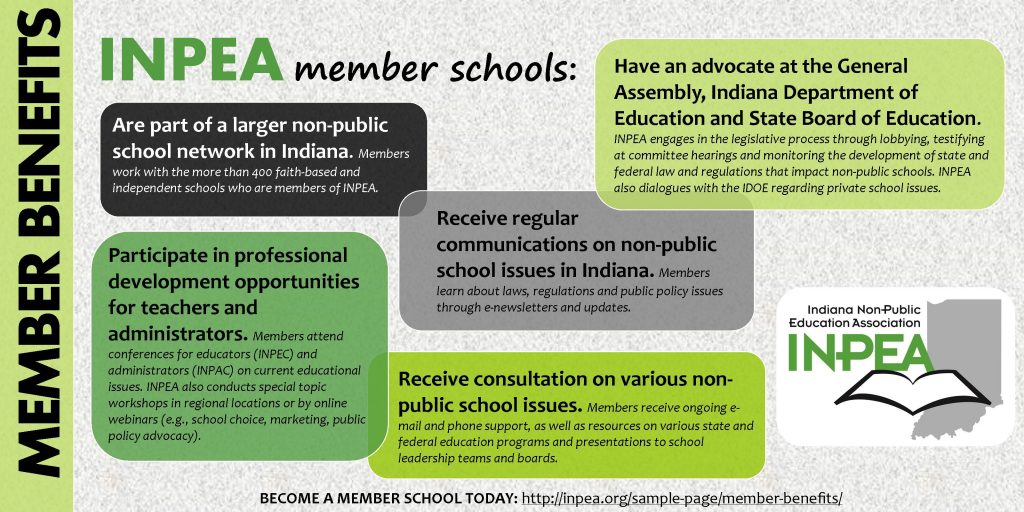 Have an advocate at the General Assembly, Indiana Department of Education and State Board of Education. INPEA engages in the legislative process through lobbying, testifying at committee hearings and monitoring the development of state and federal law and regulations that impact non-public schools. INPEA also dialogues with the IDOE regarding private school issues.
Be part of a larger non-public school network in Indiana. Members work with the more than 400 faith-based and independent schools who are members of INPEA.
Receive regular communications on non-public school issues in Indiana. Members learn about laws, regulations and public policy issues through e-newsletters and updates.
Participate in professional development opportunities for teachers and administrators. Members attend conferences for educators (INPEC) and administrators (INPAC) on current educational issues. INPEA also conducts special topic workshops in regional locations or by online webinars (e.g., school choice, marketing, public policy advocacy).
Receive consultation on various non-public school issues. Members receive ongoing e-mail and phone support, as well as resources on various state and federal education programs and presentations to school leadership teams and boards.
INPEA Accomplishments
INPEA has played a part in accessing funding and services for non-public schools. Most recently, INPEA played a key role in the passing of a Scholarship Tax Credit Program in the 2009 Indiana State Budget. Prior to that, INPEA has been involved in the following initiatives: Establishment of the State Superintendent's Non-Public School Advisory Council, Free ISTEP Testing, Access to textbook reimbursement for low income families, Free AP Testing, PSAT fee waiver, Non-Public school representative on the IHSAA Board, Representation on the Education Roundtable, Professional Development Grants, Access to Freeway Accreditation, to name a few. Most recently INPEA has been a champion for school choice, working with the legislature and other coalition groups to have vouchers enacted in Indiana in 2011. Since then, INPEA has continued to be a leading voice in school choice and ensuring that all families find the school that best suits their child's unique educational needs.
To become an INPEA member school or jurisdiction, complete our membership application.
INPEA membership dues are assessed annually in the fall based on the previous school year's student enrollment.
2016-17 Membership Dues (based on 2015-16 student enrollment)
$1.00 per Pre-kindergarten Student
$3.35 per K-12 Student
2015-16 Membership Dues (based on 2014-15 student enrollment)
$1.00 per Pre-kindergarten Student
$3.15 per K-12 Student
2014-15 Membership Dues (based on 2013-14 student enrollment):
$1.00 per Pre-kindergarten Student
$3.00 per K-12 Student
For additional information call John Elcesser at 317-236-7329 or e-mail jelcesser@inpea.org